Drink L'Chaim, L'Chaim to Life!
Drink Up Ladies!  It's National Martini Day!
Martini's are considered the drink of the suave and sophisticated!  Famous for being the drink of James Bond.  He'll have his"Shaken, Not Stirred!"  The Cosmopolitan is a favorite of Carrie and the Girls on SATC.  Some call the Martini the icon of the cocktail world!
And, there is a version of the famous drink for every Modern Jewish Bride!
How about this idea for a signature cocktail at your wedding shower?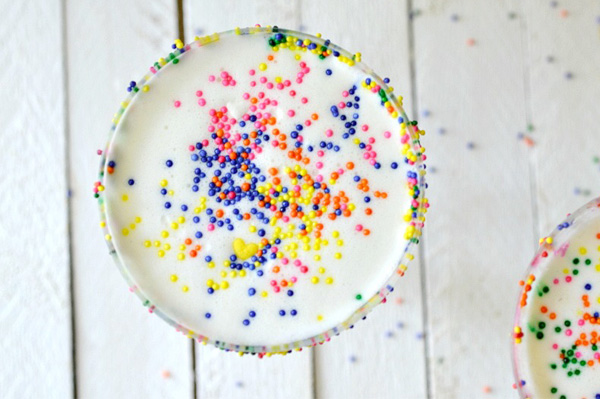 Funfetti cake batter martini
Recipe adapted from The Novice Chef
Ingredients: 
6 ounces Pinnacle cupcake-flavored vodka
2-1/2 ounces white chocolate liqueur
4 ounces heavy whipping cream
4 ounces white creme de cacao
4 ounces amaretto
Sprinkles
Directions: 
Pour sprinkles and a dash of heavy whipping cream into separate shallow bowls. Dampen the rims of six martini glasses with a paper towel then dip into the whipping cream and then immediately into the sprinkles to coat the rims. Repeat until each glass has a sprinkled rim.
Then, combine all ingredients in a large martini shaker filled one-third of the way full with ice. Add a shake of sprinkles into the mixture then shake vigorously. Strain the mixture into your sprinkle-lined glasses and enjoy!
What about an upscale cocktail at the end of the evening with your trendy doughnut bar!
Espresso Chocolate Martini
Ingredients:

1 ½ oz. Three Olives Triple Espresso Vodka
1 oz. Marie Brizard Dark Crème de Cacao
1 oz. Half & Half
1/8 oz. Rock Candy Syrup or Simple Syrup
Directions:
Combine the above ingredients into a mixing glass.
Add ice and shake well to create froth. Strain into a chilled cocktail glass. Garnish with a sprinkle of shaved dark chocolate!  Serve and drink!
Here in Tejas we're known for our wicked Mexican Martini's! 
Ingredients:
2 fluid ounces tequila
1 fluid ounce Cointreau liqueur
1 -2 fluid ounce Sprite
1 fluid ounce orange juice
1/2 lime juice
Directions:
Shake all ingredients
Strain into glass rimmed with salt & garnish with stuffed olives.
Of course there is the traditional, the drink that started it all:  The Dirty Martini!
Ingredients:
1 1/2 ounce(s) Ketel One Vodka
1 ounce(s) olive brine
1 whole(s) blue cheese-stuffed olive
Directions:
Shake Vodka and olive brine with ice in a cocktail shaker.
Serve straight up in a martini glass.
Garnish with a blue cheese-stuffed olive.
Do you have a favorite martini?  Share with us below!  And, tonight at the hour of happiness drink L'Chaim to Life!