Modern Jewish Wedding celebrates National Doughnut Day!
The Doughnut is the Latest Trend in Wedding Desserts
National Doughnut Day celebrates the doughnut (a.k.a "donut")—an edible, torus-shaped piece of dough which is deep-fried and sweetened and is mmm, mmm, yummy.
According to The Nibble,
"It is said that in 1847, 16-year-old Hanson Gregory created the hole in the center of the doughnut by using the top of a round tin pepper container to punch the holes, so the dough would cook evenly. There are many types of doughnuts. Just a few include bismarks or jelly doughnuts, raised doughnuts leavened with yeast, squares and twists, crullers made from twisted cake-doughnut dough and French doughnuts made with cream-puff pastry dough. They can be filled or unfilled, plain, glazed or iced."
We have pictures galore of how the donut has become the next big thing to hit the Modern Jewish Wedding reception dessert bar.
We have Tinywater Photography to thank for the image below! Maddy of Somewhere Splendid & Inspired Bride for publishing them originally and creating the trend. Caroline, the photographer, had some favorites, "I personally loved the pistachio ones myself although I know that the glazed maple bacon donuts were a big hit! Next time, I will have to be sure to try the apricot cardammon and caramel de sel ones more. And don't forget to try the dipping station with your doughnut holes!! Doughnut holes with caramel were my favorite."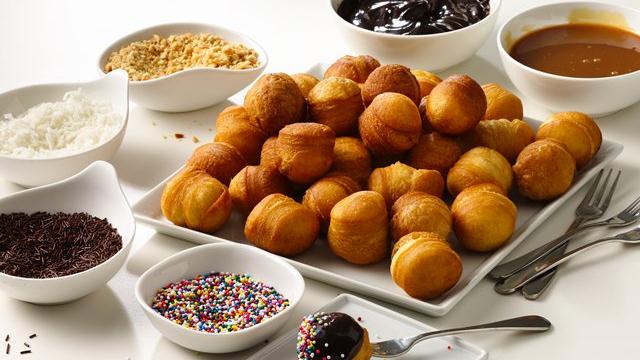 An added feature were the three types of coffee too! Plus, all the guests got to go home with a bagful of doughnut holes! Can you say YUM!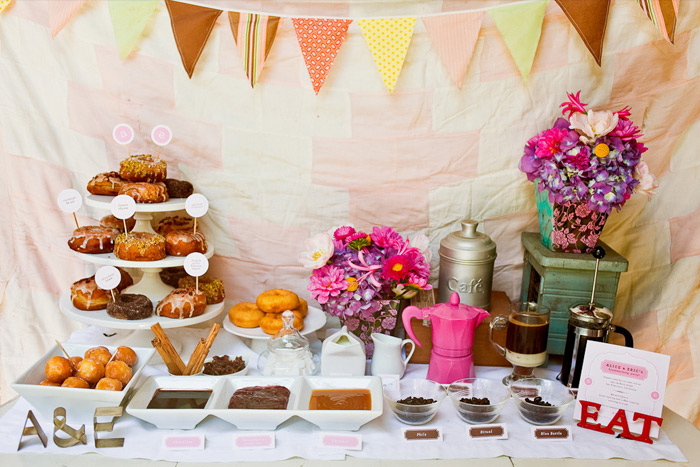 Don't forget to go grab your free doughnut today.
Not to forget the special Israeli Doughnut, known as Sufganiot, we share this YouTube video!

Don't forget the fun idea for kids as a twist on the candy bar for Bar/Bat Mitzvah receptions! I even know one family having a doughnut bar at the Kiddush lunch!