Monday Morning Inspiration: National Tater Day
Happy National Tater Day!
Granted, it isn't National Chip & Dip Day (which was to us here in MJW office a big dang deal).  However, Taters hold a place in our hearts too.
Michele served them at her own Thanksgiving inspired Modern Jewish Wedding in a martini glass as a smashed potato bar.  It was very popular.  BTW, ask her how the bacon made an appearance?

But, the smashed potato bar was so almost four years ago.
Now, how about a tater tot bar at your MJW?  We say, YES PLEASE!
We first saw this amazing concept 2 years ago (even before it was trending) at an ISES Austin event planned by some of our very own fabulous friends at Brock & Co.  Becky (the Brock of Brock & Co) and I both attended Engage and saw the tot bar trend launched to its current level of fame.
We're also on-board with the French Fry Bar.
This gourmet French Fry Bar offers waffle-cut or shoestring french fries offered with: buttermilk ranch, honey mustard, garlic aioli, ketchup & bbq sauce.  Brilliant!
Last week, for National Chip & Dip Day we saw great ways to include potato chips at your Modern Jewish Wedding.
Or, dipped in chocolate?  Salt & Sweet–that's almost as good as (use your imaginations ladies).
Since, this is The Modern Jewish Wedding Blog how could we forget the fabulous latke?  Yes, we have seen inspired uses of the latke at weddings (and b'nai mitzvah parties).
Need a little more creative way to use the potato in your wedding?
We can't resist sharing what this Photographer Dad did to explain to his 3-year old son what he does.Chris Thornton Photography gave Mr. and Mrs. Potato Head a full on wedding session.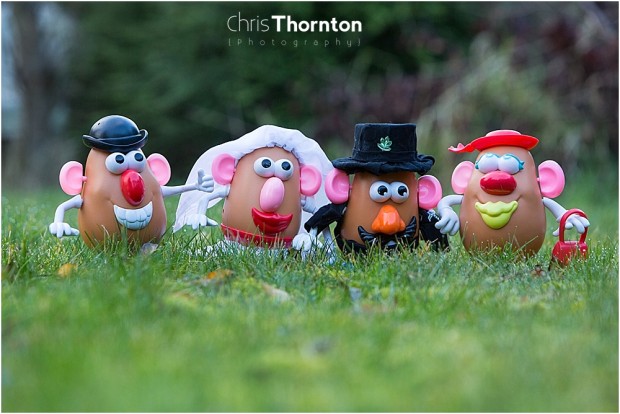 Trust us, it's worth the click through to see the whole session.  It will bring a smile to your Monday.
Just because we did the research, so, we might as well share.
HuffPost's Daily Meal's America's Best Tater Tots.  (We were horrified to discover nothing close to our offices).
Examiner.com's 15 potato recipes that celebrate the delicious spud (also includes fun potato facts). Like, did you know, an average potato contains no fat, no cholesterol and has about 100-110 calories each. (I know I loved them for a reason!  Although, I'm guessing those stats don't apply to tater tots and french fries?)
We also would like to make sure everyone knows that Taters (at least in their natural form) are Kosher for Passover.  Since, that holiday is coming up on us fast.  Here are a few potato inspired Passover Recipes for you to try.
Passover Potato Skins from Joy of Kosher
You can see all our National Food Holiday inspiration on our Pinterest Board dedicated to these most important days!
We want to hear from you.  Leave us a comment and tell us YEAH or NAY for the potato at your Modern Jewish Wedding?